MATERIAL TO MAKE THE ANGELS:

1. Thick card or stock paper in two colours: white for face, wings, arms and musical instruments. Light blue for the body (fan)

2. Templates (photocopied on the thick white paper)

3. Silver dust, glue, scissors, thread, etc.


INSTRUCTIONS TO MAKE THE ANGELS:



1. Cut a square of white, or light blue or silver paper, measuring approximately 8 inches (width) and 6 inches (length).

2. Fold the paper using narrow accordion folds (see picture below), and press the edges together on one side to make a fan (see picture below). Staple the edges together.


3. Cut out the faces, wings, arms, musical instruments, etc. using the templates provided below.

4. Glue the parts in this order: arms above the wings, body(fan) above the arms, face above the body (see picture below).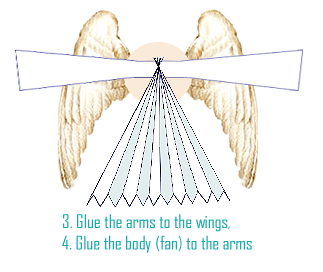 5. Sprinkle (Glue) silver dust on to the Angel's wings.
6. Curl the arms to meet in the front. Glue a musical instrument to the hands on either side.
7. Glue a tiny thread loop to the back of the head, to hang the Angel on your Christmas Tree.

DOWNLOAD THE FOLLOWING TEMPLATES:
NOTE: The following must be photo-copied on to
thick card or stock paper


Faces of Angels
Angel's Arms
Angel's Wings